There will be a day.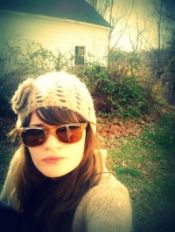 My name is Shannon Katharine.
I like reading, crystals, sunshine, lattes, flowers, my cat Theo, poetry, freckles, and tea.
I spend way too much of my time day dreaming.
I tend to wander and mosey my way through life. My roots are in Michigan but I am currently sunning myself in the desert just outside of Las Vegas. I like to see the mountains outside of my windows and I would love to live in a cabin nuzzled between the trees someday.
Robert Smithson's Ever-Changing Spiral Jetty

To see more photos and videos of Spiral Jetty, explore the Robert Smithson's Spiral Jetty location page.

Over the course of six days in 1970, American land artist Robert Smithson created his greatest work: Spiral Jetty. The 1,500-foot-long (460-meter) curlicue made of basalt rock juts from the shore of Utah's rose-colored Great Salt Lake and constantly changes with the surrounding environment. Two years after Smithson finished the sculpture, rising water levels submerged the entire artwork for decades. When recent droughts lowered the height of the lake the artwork reemerged, though its appearance had changed dramatically. The once-black rocks are now whitened by salt crystals and silt. Fortunately, Instagrammers have made the trek to rural Utah to see and capture Spiral Jetty in person while it's still visible.
I want to see this!!